Join Community: http://Community.AppyBuilder.com
Drag, Drop, Snap Blocks, Build app
Dialog Windows A dialog is a small window that prompts the user to make a decision or enter additional information. A dialog does not fill the screen and is normally used for modal events that require users to take an action before they can proceed. For example the Dialog below is used to show a Help screen: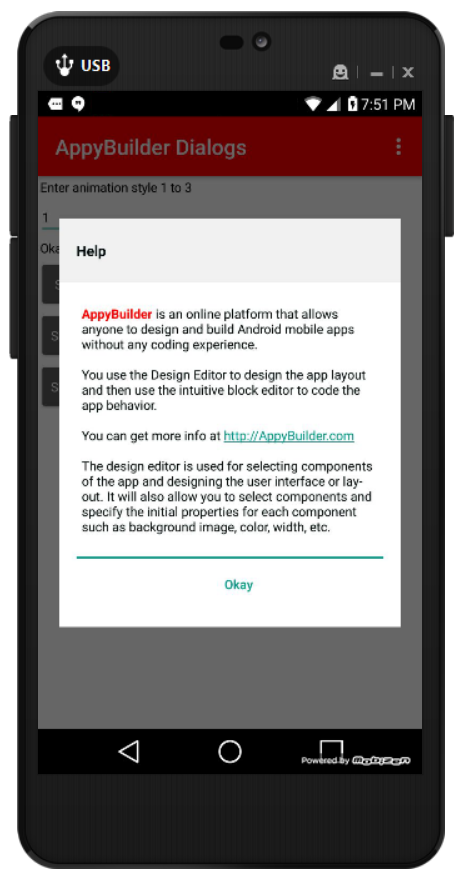 AppyBuilder makes it very simple to create Dialog windows. You use the Notifier component and its ShowMessageDialog block to create the window. This block includes ability to include html tags. It also includes an animation style. Use numbers 1 to 4 to specify animation type (1= pop-up, 2=slide from left, 3=slide from right, 4=slide from bottom, 5 (or larger) means no animation).
Here is a demo showing different animationTypes:
Alert Messages
Alert messages provide simple feedback about an operation in a small popup. It only fills the amount of space required for the message and the current activity remains visible and interactive. Alerts automatically disappear after a timeout.
There are 6 type of Notifier Alert messages that can be displayed either at center or bottom of screen. To display Alert messages, use Notifier.ShowAlert block: 
The above block includes a socket for alertType. Use any number between 1 to 6 to display messages of different style:
Join forum community for tutorials, discussions, technical questions
http://Community.AppyBuilder.com
Website: http://AppyBuilder.com
Share, Like us below 🙂